Eight months after his victory against Clottey, the Pacquiao-Margarito boxing fight earned him his eighth title - the WBC Super Welterweight Champion against, Mexican Antonio Margarito at the Cowboys Stadium in Arlington, Texas, USA.
Even if the fight reached 12 rounds without a knockout, Manny Pacquiao was satisfied with his performance.
With last year's win via technical knockout against
Miguel Cotto
and this year's successful bout against former IBF Welterweight World Champion
Joshua Clottey
, beating
Anotnio Margarito
was actually not much of a surprise. It was a good
Pacquiao-Margarito match
, nonetheless.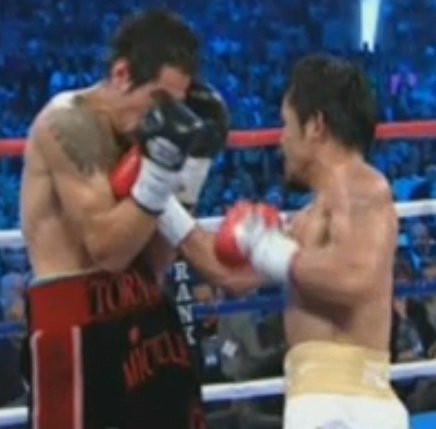 With now eight world boxing titles under his belt,
Manny Pacquiao
has the ultimate world boxing record that may never be matched again.
But then again, as one article noted,
"
...Manny Pacquiao is a hardworking Filipino who knows how to wear pain with pride, and who knows that one shouldn't just remain idle. Boxing may be the most difficult (not to mention, the most painful) sport in the world, but it is exactly the challenges of this sport that Manny loves about boxing. Pain is just another way of reminding him of his successes and triumphs. Without it, what would a boxer be?
"
Cheers to Manny Pacquiao and the victory of the Filipino people as a nation!